The Innovative Display Cases Protect of the Most Valuable Treasures in Nanjing Museum
In the 1980s, a collection of cultural relics was accidentally discovered in a hoard in Xuyi, Jiangsu Province. Among them was a vivid gold beast covering on a bronze ewer. The gold beast is 17.5 cm long, 16 cm wide and 10.2 cm high and could date back to the Western Han Dynasty at the latest. Its whole body is decorated with circular markings. It contains 99% gold and weighs 9,100 grams, which is the heaviest ancient gold ware unearthed in China.Through seamless collaboration with the exhibition designer,Relicase fabricated automatic diagonal open freestanding display case for the most valuable treasures in The Nanjing Museum.
Relicase fabricated Automatic Diagonal open freestanding Display Case protect the Most Valuable Treasures in Nanjing Museum.
It's an Award-winning museum display case. The awards was initiated by Chinese Cultural Relics, Collaborative platform for industrialization and application of relic conservation equipment, and China Association for Preservation Technology of Cultural Relics. More than 80 projects applied since the nomination began in May, 2020. Only 20 of them was shortlisted after pre-elimination.
open freestanding case achieves maximal opening by DOUBLE-LEAF ACCESS technique. When driven by automatic motors, the opposing units formed by adjacent glass leaves separate in the diagonal directions, leaving one opening on the front and another in the back. The double-opening structure allows access from both directions simultaneously, which makes it optimal for handling of exhibits that are extremely heavy or delicate.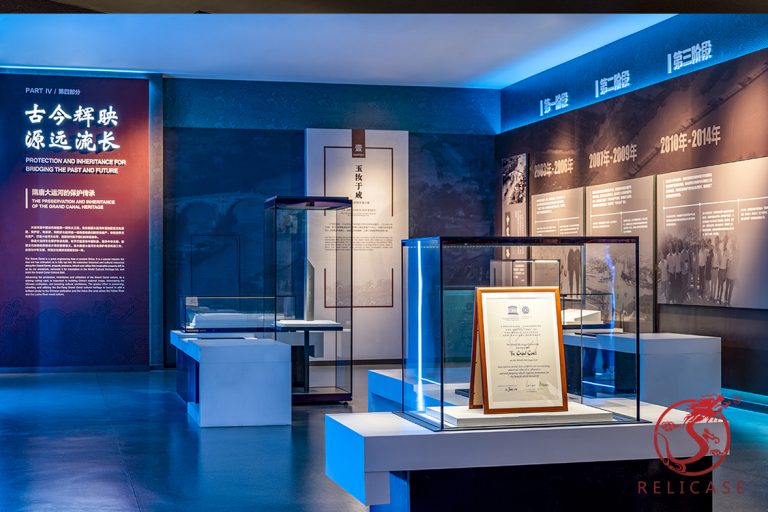 A good Museum quality glass display cases should meet several key criteria to effectively preserve and showcase artifacts while engaging and educating visitors. Here are some important factors to consider: Preservation and Protection: The display case must offer a controlled environment to protect artifacts from external factors such as dust, pollutants, temperature fluctuations, and humidity…