What are museum display cases made of?
Museum display cases can be made of a variety of materials, depending on the specific needs of the museum and the objects being displayed.
Some common materials used to make museum display cases include:
Glass: This is the most common material used to make museum display cases. It provides an unobstructed view of the objects on display and is durable and easy to clean.
Acrylic: This is a lightweight, shatter-resistant alternative to glass that is often used in museum display cases, particularly for traveling exhibitions.
Wood: Wooden display cases can provide a warm, natural look that complements certain types of exhibits. However, they are generally not used for objects that require airtight or climate-controlled environments.
Metal: Metal display cases can be very durable and provide a sleek, modern look. They are often used for high-security displays.
Plastic: Plastic display cases are lightweight and easy to transport, making them ideal for traveling exhibitions. However, they are not as durable as glass or acrylic and can scratch easily.
Overall, the choice of materials for museum display cases will depend on a variety of factors, including the objects being displayed, the level of security needed, and the aesthetic preferences of the museum.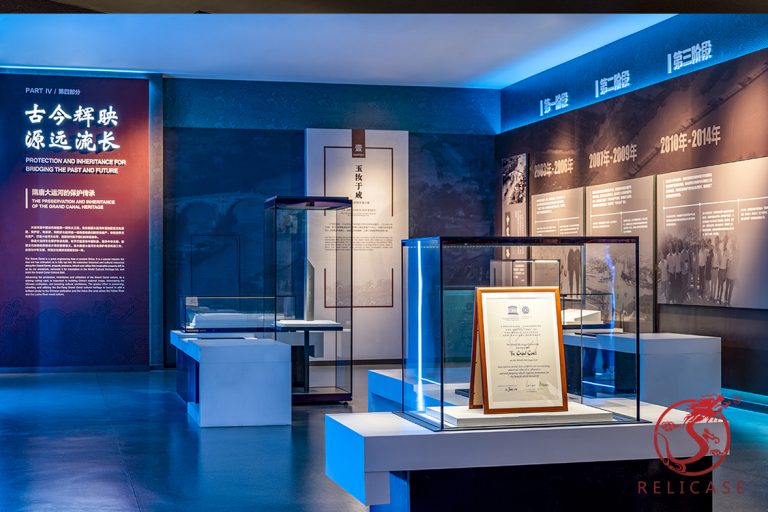 A good Museum quality glass display cases should meet several key criteria to effectively preserve and showcase artifacts while engaging and educating visitors. Here are some important factors to consider: Preservation and Protection: The display case must offer a controlled environment to protect artifacts from external factors such as dust, pollutants, temperature fluctuations, and humidity…