Space design with display wall and display cases
Exhibition design is an important part of curating, and essential to demonstrate exhibits. A well planned exhibition will be intriguing and educationDisplay case design is an important part of curating, and essential to demonstrate exhibits. A well planned exhibition will be intriguing and educational, engaging museum goers into the scenario.
Reimage space with walls and display cases
Exhibition layouts never come from random thoughts. They are expression of intensive thinking and careful conception of curators. Space is the foundation of exhibitions. Certain segmentation generates distinct exhibition effects. Reorganizing space in exhibition hall with wall cases and freestanding display cases thus become the first step to create route and narrative for a exhibition.
A successful space design leads audience into the story without trace. The segmentation and flow of the route drive the plot smoothly forward, and eventually strikes the chord.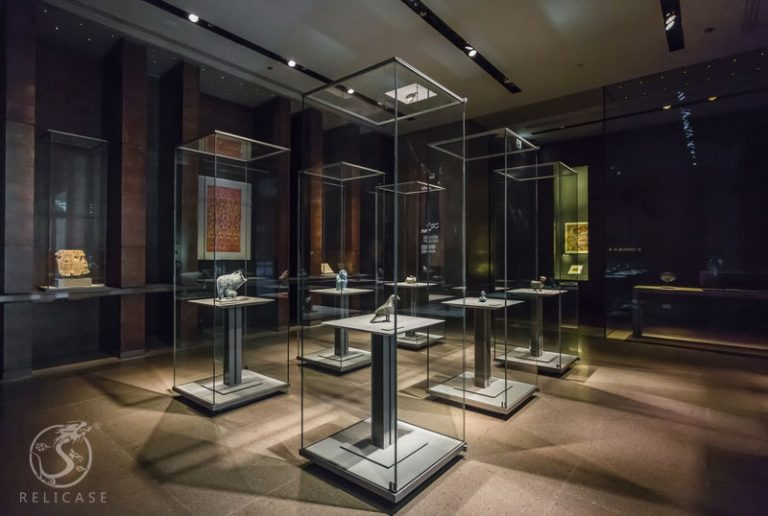 Freestanding display cases in Museum of Islamic Art, Doha by Relicase: transparent case allows clear sight of painting behind the case.
In museum layout, freestanding display cases are often introduced to create visual focus of exhibition halls. Enclosed by four-sided glass, freestanding case allows appreciation from every direction yet retains clear view above the exhibits.
Color design create vibe for the exhibition
Color is the first thing we notice when we encounter stranger environments. Thus color design is essential in museum curating. The vibe of exhibition hall is set up by appropriate color design.
The project of Royal Islamic Museum of Brunei is a perfect example. In close collaboration with British design team Jasper Jacob Associates, Relicase created several series of display cases. Each series in distinct style and color. Blended into the corresponding hall, the display cases deliver perfect vibe for the exhibition. (As illustrated below)
Color combinations are carefully created by curators according to the theme of exhibition, characteristics of exhibits, and structures of halls. Saturations, brightness and hues are elaborately planed to ignite empathy of audience.
Design elements are never isolated. They involve together and interact with each other. Colors fill space up, spaces shape colors. The interwoven of them forms the vibe of an exhibition.
One important design principal of Relicase is blend display cases into the exhibition environment. Our engineers actively participate in the interior fitout at early stage to ensure display cases styles comply with layout and decoration of the exhibition.
Display case Relicase made for Suining Museum blends perfectly into the environment.
Blend in, and let go the egos. Not prominent, but everywhere.
Latest news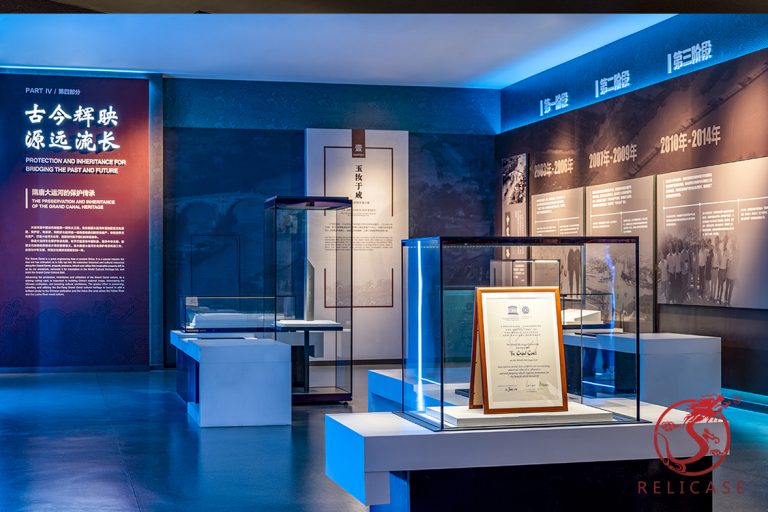 A good Museum quality glass display cases should meet several key criteria to effectively preserve and showcase artifacts while engaging and educating visitors. Here are some important factors to consider: Preservation and Protection: The display case must offer a controlled environment to protect artifacts from external factors such as dust, pollutants, temperature fluctuations, and humidity…