Freestanding Glass display cases in museums
In museum layout, freestanding display cases are often introduced to create visual focus of exhibition halls. Enclosed by four-sided glass, freestanding case allows appreciation from every direction yet retains clear view above the exhibits.
Freestanding display cases in Museum of Islamic Art, Doha made by Relicase: transparent case allows clear sight of slamic glass collection in the case.
The Museum of Islamic Art Doha is so far the most comprehensive museum themed on Islamic Art. It contains Islamic artworks from all over the world. Paintings, glass, metalwork, manuscripts, and textiles dating from the 7th century to the 13th century BC stitches together a glorious history of Islam. Collaborating with famous French interior designer Wilmotte & Associés SA, Relicase fabricated Countertop Table Display Case and Frameless Freestanding Display Case for these treasures in the galleries. Designed as "black boxes" without natural light, the galleries are quite literally made to allow visitors to appreciate these objects of utilitarian origin. The showcases fade and float in the air so as to best enhance the artworks. These display cases secure and blend perfectly into the awe-inspiring interior spaces of the museum.
Color is the first thing we notice when we encounter stranger environments. Thus color design is essential in museum curating. The vibe of exhibition hall is set up by appropriate color design.
The project of Royal Islamic Museum of Brunei is a perfect example. In close collaboration with British design team Jasper Jacob Associates, Relicase created several series of display cases. Each series in distinct style and color. Blended into the corresponding hall, the display cases deliver perfect vibe for the exhibition. (As illustrated below)
Relicase was appointed the Museum showcase manufacturers by Royal Brunei Islamic Museum, supplied one bespoke circular arc round freestanding display cases . The museum, also known as The Balai Pameran Islam Sultan Haji Hassanal Bolkiah (BPIS) Museum (Sultan of Brunei's Islamic Museum) was designed by world-renowned architect, Pei Partnership. Located near the existing State Mufti's building, it houses and conserves over 1,000 Islamic artifacts ranging from His Majesty's personal collection of hand-written Al-Qurans, an exquisite range of walking sticks and prayer beads dating from early Islamic periods to the late 19th century. The interior team from Beckinteriors has created an erotic space with traditional Islamic elements. This circular arc free-standing case fitted right into the scenes and became the centerpiece of the showroom.
Color combinations are carefully created by curators according to the theme of exhibition, characteristics of exhibits, and structures of halls. Saturations, brightness and hues are elaborately planed to ignite empathy of audience.
Design elements are never isolated. They involve together and interact with each other. Colors fill space up, spaces shape colors. The interwoven of them forms the vibe of an exhibition.
One important design principal of Relicase is blend glass display cases into the exhibition environment. Our engineers actively participate in the interior fitout at early stage to ensure display cases styles comply with layout and decoration of the exhibition.
More Freestanding Glass display cases products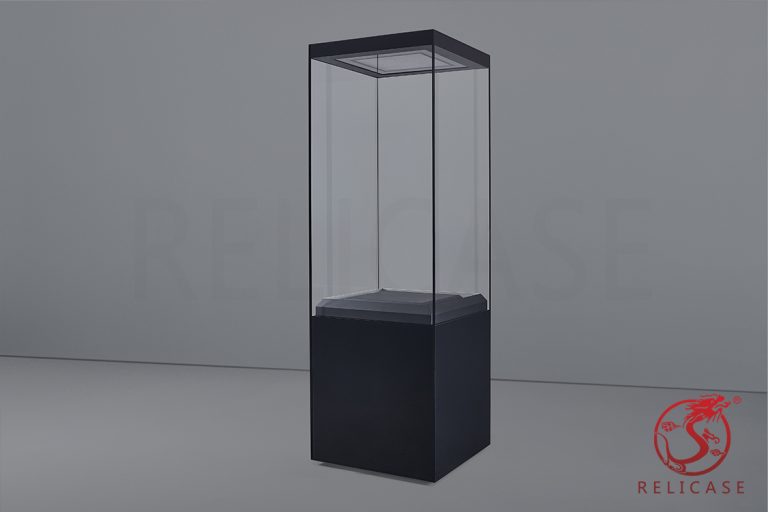 A cost-efficient line of standardized museum-quality display cases.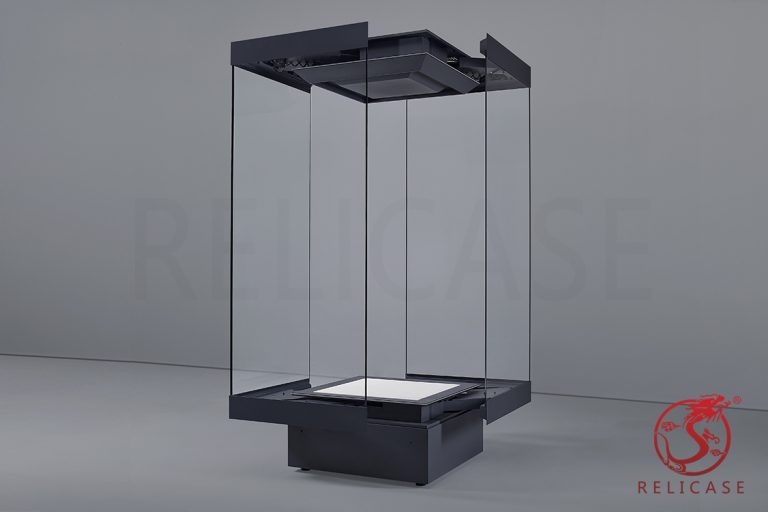 display large, heavy and delicate collections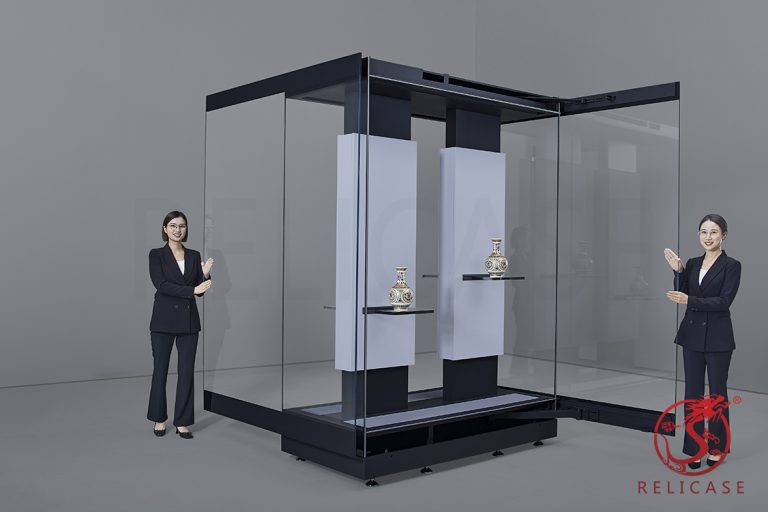 display porcelain, enamelware, metal objects