Relicase & Trika Demountable modular Freestanding showcases comprises individual case modules, each of which can be quickly and easily fixed together to create larger museum showcases.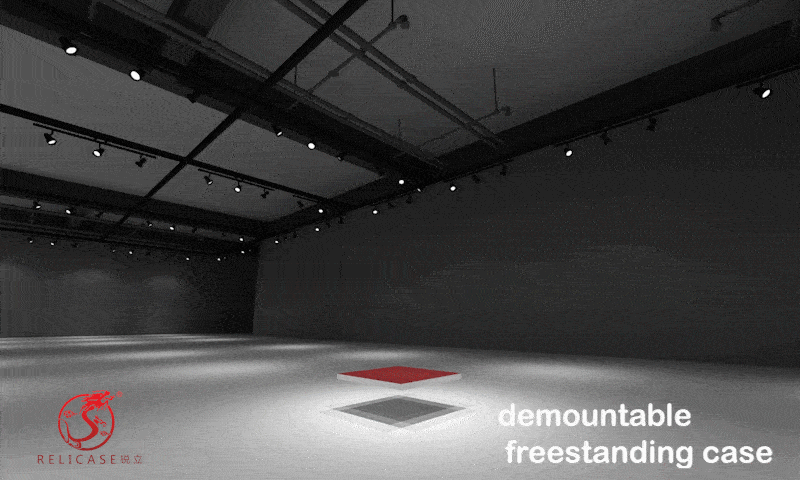 Each module is a stand-alone showcase with full height glass for maximum flexibility. Glass Tops or Lighting Tops are interchangeable between modules. Modules can be assembled in a variety of custom configurations, whilst maintaining the security and sealing that is expected from a permanent showcase installation.
Displays can be mounted on internal plinths, dress panels or fully adjustable hanging rod shelving.
Standard Individual Module Specification
Trika Demountable - with Glass Top or Lighting Hood Top.
| | | |
| --- | --- | --- |
| Dimensions | 900 module | 700 module |
| Overall height: | 2100mm | 2100mm |
| Internal height: | | |
| Glass Top | 1950mm | 1950mm |
| Lighting Hood Top | 1900mm | 1950mm |
| External width: | 900mm | 700mm |
| Internal width: | 850mm | 650mm |
| External depth: | 900mm | 700mm |
| Internal depth: | 850mm | 650mm |
Structural Glass 11.5mm laminated Optiwhite anti-bandit glass to BS 5544. This special low iron content 'white' glass greatly enhances the colour rendering of objects in comparison to standard glass, which has a significant green tint. Optiwhite laminated 3-ply glass system also filters over 97% of UV radiation between 320 & 380 nanometres.
All structural glass panels are the same size and are interchangeable between individual (same sized) case modules.
Anti-reflective glass is also available as an option.
System Extrusions The showcase structure comprises purpose designed aluminium extrusions which are powder coated as standard to Polyester Matt RAL 7024 Graphite Grey, Matt RAL 9004 Signal Black, RAL 9016 Traffic White.
Other colours are available on request.
Access Simple to use, full height glass door with a fully concealed dual action hinge and espagniolette closure mechanism.
Locks Two part locking system - Trika's patented dual-locking Merged Key System delivers an integrated AbloyTM CL100E high-security lock within a mechanical lock to top and bottom of each case door. These can be suited to requirement.
Lighting Top Integral lighting hood top comprises hinged folded steel locking lid, fabric lighting diffuser and 7mm laminated misted diffuser glass. This is used with the fluorescent or low voltage lighting options.
For fibre optic lighting, a purpose designed aluminium extrusion frame, incorporating a folded steel soffit panel is substituted. All parts are powder coated.
The lid is ventilated as standard.
Power Supply Power may be supplied either from above or from the floor by means of an aluminium conduit within the case, all connections utilise standard plugs and sockets therefore no 'wiring' is required.
Lighting Options Fluorescent lighting - mounted above the diffuser to provide an even spread of light and UV filtration.
Low voltage LED lighting - OLED with rotary dimming transformers and fully adjustable or LED spotlights mounted above the diffuser with UV filtration.
Fibre optic lighting - LED or tungsten 100 watt halogen light source / light generator with rotary dimmer and fan, high quality glass fibre tails and range of adjustable end fittings.
Lighting is accessed through the locking top lid of the case, outside of the display chamber.
Seals Inert extruded silicone 'bubble' seals are firmly held within a discreet protective aluminium edging to provide approximately 0.25 air changes per day on a single module.
Humidity Control Artsorb cassettes and other active protective mediums can be placed in the void below the baseboard to condition the display chamber.
Shelving Fully height adjustable hanging rod shelving system with 9.5mm Optiwhite laminated glass shelves. Part width and depth shelves can be used. Graphic panels can be added.
Base Panel ZF-MDF substrate sealed with Dacrylate museum standard, water-base acrylic lacquer and covered with Baumann Ultra IV fabric - light grey as standard. Nextel finish also available.
Opaque Panel All structural panels must be glass but these can be obscured using graphics or a ZF-MDF dress panel securely located at any position within the display chamber.
Both the base panel and dress panel can be re-covered or painted to change the backdrop to a display.
Connecting Modules Can be joined together indefinitely to form long cases, deep cases, L, U, C, X and cruciform shaped cases. For each module to be connected to another, a pair of connecting rails (for top & bottom) is required.
Note that the smallest (or depth) dimension of a rectangular case must not exceed 1800mm i.e. two modules joined together.
Whenever two modules are connected together, two vertical glass panels become surplus to the new structure. Use of the surplus panels can be achieved by having available additional pairs of case bases and tops.
Joining together 4 modules frees up enough panels to create an additional single module case, using only an additional pair of frames.